In the first of our posts on our Google survey, we looked at whether local printers enjoyed exposure on the first page of Google's organic search results.
We then wanted to establish how many of these local printers take advantage of this with a transactional website (webshop) i.e. does their website have a shopping cart – could they take an order and accept payment online through a secure server?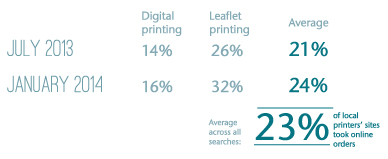 Our survey showed that on average 23% of the printers who appeared on the first page of Google's organic search results have shopping cart functionality. Although in the 6 months between the two surveys there was a marginal increase in this number (3%)*, over 75% of local print businesses have no webshop functionality.
For these local printers it means they are unable to cater for the needs of the ever increasing online marketplace. Potentially missing out on orders from prospective local clients wanting to place their print orders online.
And Search Engine Optimisation? We'll be looking at whether these local print businesses carry out certain SEO activity in the final post on our Google Survey.
For more information or for a full copy of the Survey, please email info@w3p.com
*During the 6 month period between the two surveys w3shop users contributed to the number of UK webshops by 28. Please follow the link for more information on our w3shop solution.
/us/wp-content/uploads/2015/03/w3p-site-300x300.png
0
0
sian.heaphy
/us/wp-content/uploads/2015/03/w3p-site-300x300.png
sian.heaphy
2014-06-10 11:56:01
2014-06-10 11:56:01
Can I buy print from your website? Part 2 of our Google Survey